Small Home Office Ideas 2023 for many people, a home office is more than just a workstation. It's also a homework station for the kids, a place to pay bills, or even just a spot to read.

No matter how you use it, a well-organized home office can help you maintain a productive workflow and a healthy work-life balance. Browse these 21+ small home office ideas to inspire a functional and stylish workspace.
1. Built-In Bookcases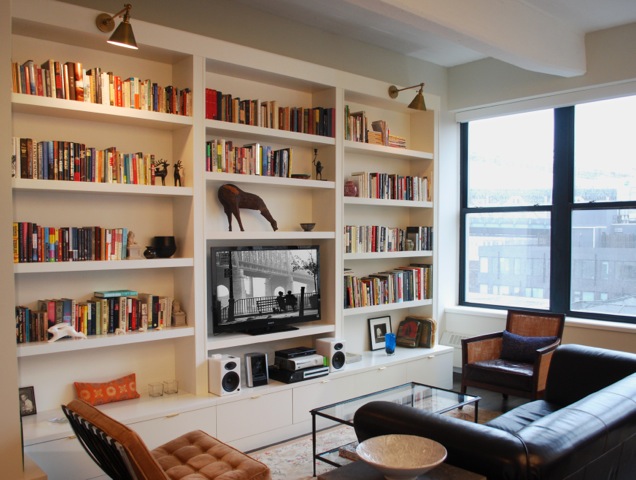 Free up floor space in a room with built-in bookcases, like this cozy home office nook from Ashley Montgomery Interiors. A floral wallpaper, decorative desk chairs, framed art, and sentimental objects make the workspace feel personal and tailored to the rest of the design.
If you don't have a lot of wall space, try this DIY bookshelf project that builds on top of existing base cabinets. It's a simple build that even an intermediate-level DIYer can tackle. Crown molding and a fresh coat of paint finish the look for a high-impact storage solution that feels custom.
For a fun pop of color, try painting a wall with chalkboard paint and using it as an easy-to-clean to-do list or calendar. This small home office from Lindye Galloway Studio + Shop uses the technique to keep kids entertained while mom works.
2. Open Shelving
Home office ideas for small spaces often involve open shelving to make the room feel larger. Here, a nook tucked into the corner features shelves painted in matte blue and styled with knicknacks that serve as inspiration, while an upholstered salmon pink desk chair adds softness to the workspace.
Home offices can be a great place to incorporate personal touches, like photos of family or pets, and motivational artwork. This unique design from interior designer Anita Yokota is a perfect example. The wallpaper
features a peacock motif that is carried out with cages for bookshelves and a pendant light featuring a whimsical
transparent bubble design.
While white is a classic color for home offices, adding in small accents of a bright hue can help liven up the space.
In this home office, orange is used sparingly in boxes, a tissue box cover, and the chair's plant pot to add some
energy.
3. Built-In Storage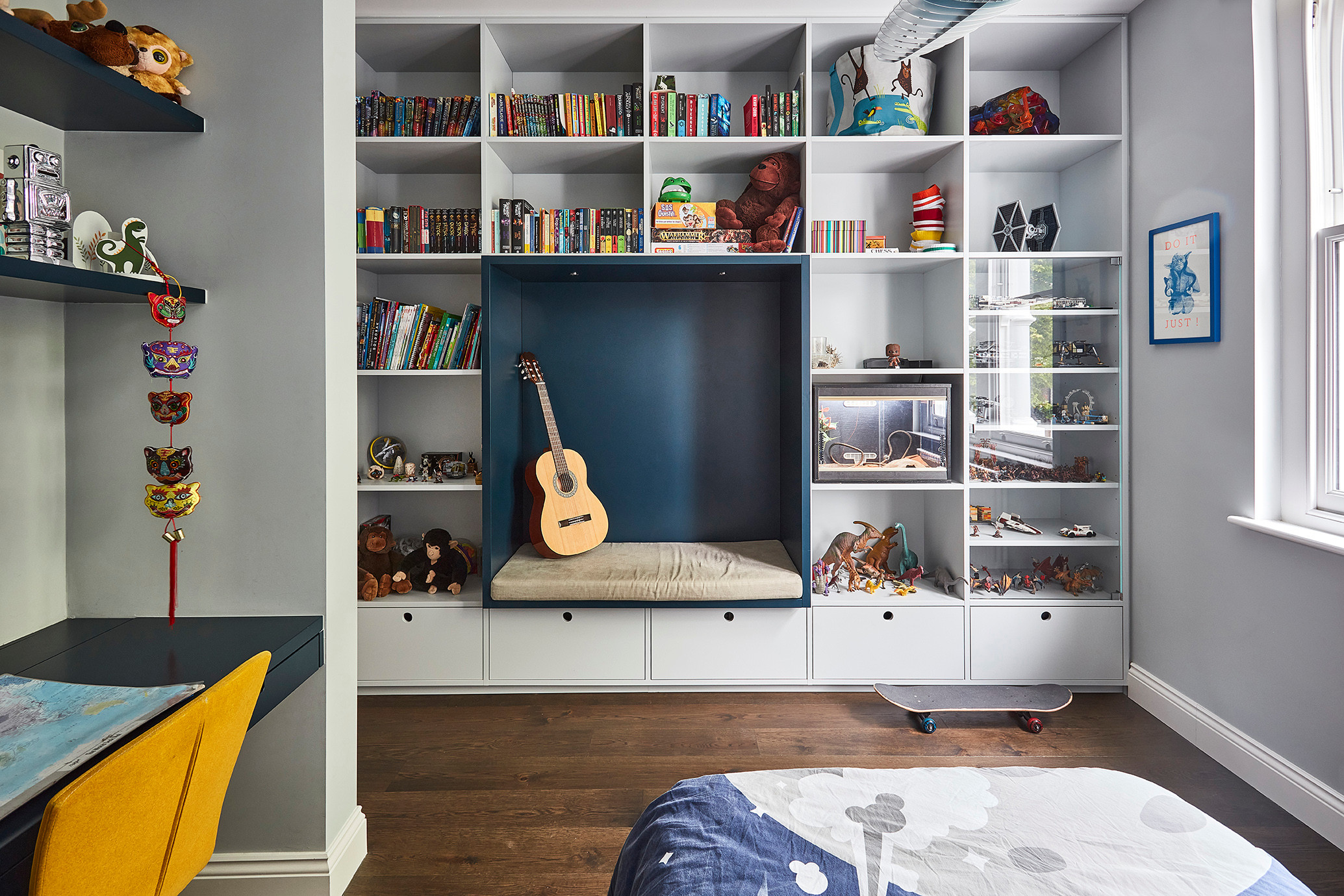 The home office can play a variety of roles for most families. For some it's their 9-to-5 workstation; for others it's a space to pay bills or sort mail. Whatever you use your home workspace for, storage should be a top priority.
Keep desktop clutter at a minimum by using wall-mounted organizers like this set from Pottery Barn. This set
includes ceramic trinket dishes for pens and pencils, a magnetic memo strip and a large calendar, all of which are
accented in gold to add an extra touch of luxury.
Tucked into this arched nook, this home office design from Space Factory includes custom built-in storage
beneath the desk to keep papers and other office supplies out of sight. The simple desk and storage cabinets
also match the staircase design to make this home work space feel more integrated into the overall room design.
4. Minimalist Organizing
Whether you're using your bedroom as an office or converting a living room into one, it's important to declutter the space and only keep items that are used on a regular basis. Start by taking everything out of the drawers and cabinets, then only put back those you use regularly or need for record keeping. Sell or donate the rest.
Minimalism also helps to define home office spaces and create a clear delineation between work and home. The white desk and matching storage bins in this home office from The Layered House create a clean aesthetic that's sure to inspire productivity.
Organize small things, like craft supplies or pens, into logical groups. Whether they're stacked in a bin or organized by color, neatly arranging them will make them easier to find.
5. Minimalist Desk
A minimalist desk looks clean and organized. It also makes a good base for more personal decorating ideas that can help boost your productivity, such as an accent chair or framed photos. To get this look, remove everything from your desk, then wipe it down so you have a fresh blank canvas. Then, incorporate small accents of your favorite color into your desk decor. Here, a bright orange is used in a few elements — including the tissue box cover, a desk plant and the chair's armrest.
Even a bold color can work with a clean, minimal home office design. In this space from Lindye Galloway Studio + Shop, navy blue walls balance the simple modern desk and chair, while a wraparound gallery wall of graphic prints provides color cohesion.