The Journey to Ethical Jewelry

Ethical jewelry is a sustainable product that follows the norms of manufacturing and is made with recycled materials and solar energy.
It also supports best-practice manufacturing environments for laborers and reduces deforestation risks.
It also fulfills social aims like supporting miners with livable wages, promoting sustainability, and providing fair working conditions.
Sourcing
One of the biggest impacts on the environment when making jewelry is sourcing raw materials. Gold and other precious metals must be extracted
from the earth through mining, which often contaminates soil, water, and air and causes physical disturbance to the landscape.
A jewelry maker can make ethical choices when selecting materials, such as using recycled or conflict-free gold. They can choose to work with
suppliers that are Fairmined or fair trade, and that have strict adherence to worker rights, environmental protection, and community investment.
For example, Accompany specializes in sustainable artisanal jewellery that celebrates African culture and heritage. Their pieces are handmade with
fair-trade and responsibly sourced African gold and globally sourced conflict-free fine metals, and they invest back into communities that are
affected by mining to improve health care, education, and more. They even use 100% recycled shipping boxes! The company takes the extra step to
verify that their gold and other gems are traceable.
Design
The jewelry industry has a history of slave labor, exploitation, pollution, deforestation, and war (you've probably heard of "blood diamonds" that
funded rebel militias in Africa in the '90s). Ethical and sustainable jewelry is made using raw materials that have been mined responsibly, recycled,
or reused, and the production of that jewelry is done with responsible environmental and social impacts in mind.
It is also important that the people working in jewelry making are treated well and paid a living wage that allows them to provide for themselves
and their families. This could mean supporting schools for children, providing safe work environments, developing and implementing community
and culture policies, or other social aims that help people in their communities to thrive.
Whether you want to start a business in handmade jewelry design and manufacturing or simply use it as a hobby, there are many resources
available to help. They can help you find ethical materials, provide sustainability certification for your business, or connect you with like-minded jewelry makers.
Production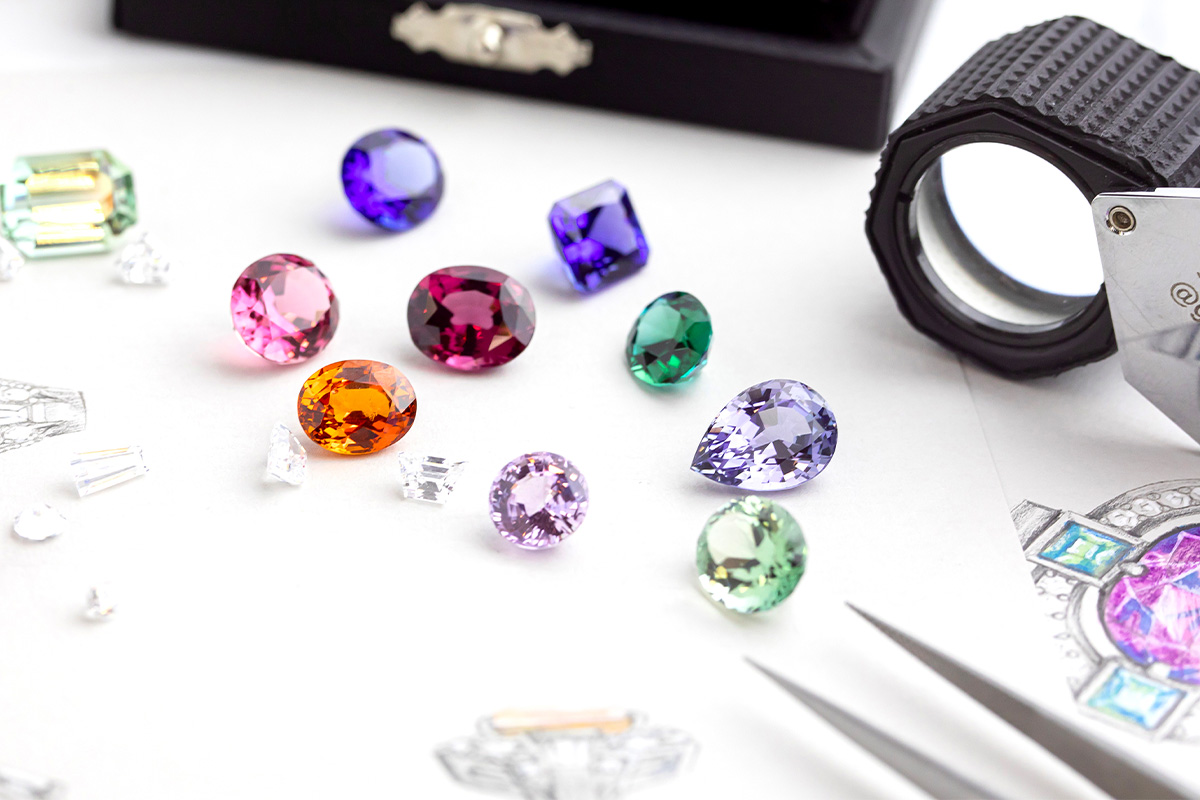 As you learn to make ethical jewelry as a business or just as a hobby, you'll need to know where the raw materials and components you use came
from, who crafted them, and where they went afterward. Thankfully, there are resources that provide support, education, certifications and updates
in research to help you navigate this minefield of sustainability and ethics.
There are no one-size-fits-all accreditations or standards to follow, and some of the jargon is hard to understand. But there is a growing demand
for transparency in the supply chain, and some jewelers are rising to meet it.
Many consumers want to know that the gold and gems used in their jewelry ethically sourced. However, the mining industry is trying to
stonewall efforts to require greater transparency. It will take a lot of pressure from caring consumers to force the gold and gemstone industries to
become accountable for their supply chains. Even so, they have a long way to go.
Packaging

Ethical jewelry and sustainability are inextricably linked, and it begins with sourcing fundamental materials. There are a number of resources
available for handmade jewelry makers who wish to source their materials ethically and sustainably. These organizations can help with finding
ethical material suppliers, obtaining sustainability certification for your business, and connecting you to other jewelry makers who are making a
difference in their community and in the world.
Sustainable jewelry brands consider their entire supply chain when sourcing materials, and they take great care to ensure that each step done so
with the environment in mind.
They also seek to minimize their impact on the planet by using recycled packaging and limiting long-distance
shipping when possible.
In addition to limiting their environmental impact, some of these jewelry brands have taken it one step further by seeking to be carbon neutral.
Other initiatives include supporting mining communities through their use of Fairmined gold, limiting the impact of chemical waste from
manufacturing through their commitment to safe workshop practices, and by encouraging repeat customers to send in their old or broken jeweler
to be melted down for reuse.